COMMUNICATING CULTURE: OPEN TO CHANGE
The pandemic has thrust change management and disruption onto the top of our agendas. Or has it? Fortunately, some organizations had already woven key ingredients of change – innovation, technology, dialogue and civic engagement – into their corporate cultures.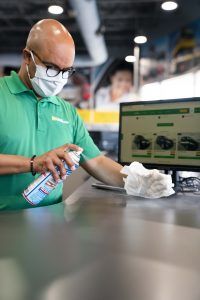 HGreg.com employees disinfect common areas as part of the company's expansive efforts to help customers shop in full confidence and safety.
When we first opened our doors, 2010 in the U.S. and 1993 in Canada, we did so with the promise of breaking the status quo in our industry. This year, factors outside of our control have forced us to rely – even harder than before – on these values. Throughout the evolution of COVID-19, we have remained open, sure, but the words 'business as usual' have never been further from our minds.
With growth in consumer confidence and more of our prospects and customers returning in person, we've yet again adjusted things to reflect the signs of the times. Here are just some of the ways in which we are serving customers with convenience and friendliness, but with an unprecedented focus on onsite safety and sanitation.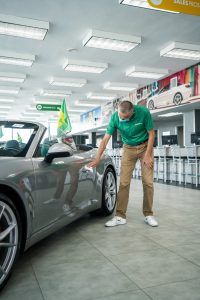 An HGreg.com employee disinfects cars in the Miami dealership showroom – part of a robust program to keep the network's locations clean and sanitized.
Our trained employees will wear masks and use, at a heightened frequency, hand sanitizers (frequent hand washing is always de rigueur at HGreg!). Customers entering our dealerships will also be asked to wear a face mask and use hand sanitizer available throughout our locations so they can browse and shop safely.
Social distancing guidelines will be clear and hard to miss, quite literally pasted onto the floor and other high-traffic and visible areas, reminiscent of your last grocery outing.
All of our vehicles are being sanitized, inside and out, before and after test drives. Also, sanitized cars will be marked with a special hang tag so customers know which car has been taken through the wringer. Customers get access to the driver's seat; our associate goes in the back.
For those who prefer online shopping, the HGreg.com virtual showroom is your portal to HGreg Direct, a budding service that allows for fast and convenient 'contact-free' shopping. Simply find your favorite car, chat with our team and let us guide you to a quick and convenient delivery and after-care service. Those who speak Italian will want to scream "La dolce vita!".
We've always said that shopping should be frictionless. That's the case now – and it's only going to get better, and cleaner.
Enjoy the new drive!