TOYS FOR TOTS DONATION DROP-OFF
From dealership to drop-off location
HGreg.com invites customers to drop off toys
as part of U.S. Marine Corps Reserve Toys for Tots Program 
Doral, Fla., November 17, 2020 – Cars and toys go together, now so more than ever thanks to a collaboration between HGreg.com and the popular annual Toys for Tots program. Until December 11, residents of South Florida can visit any of the eight new and pre-owned car dealerships within the HGreg.com network to drop off their unwrapped toy gifts, which will be redirected to children at Christmas. 
"We could not be happier to support the Toys for Tots program and children in our communities, especially this yea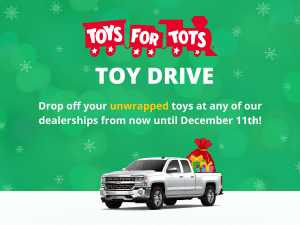 r," says John Hairabedian, president of HGreg.com. "Helping to bring a smile to a child is a gift for us."
Organized by 4th Civil Affairs Group in Hialeah, the program distributes new and unwrapped toys generously donated by the community and businesses to underprivileged children of Miami-Dade and Broward Counties for the holidays. HGreg.com Orlando is also participating in a similar Toys for Tots program. 
Through its more than 200 drop-off locations throughout the region, local organizers of the Toys for Tots program hope to exceed last year's total donation of 74,752 toys. 
HGreg.com joins the Marine Corps' popular Toys for Tots program for the first time in 2020 – helping to collect thousands of toys for children in need.
Drop off locations include: 
HGreg.com Doral
8505 NW 12th St
Doral, FL 33126

HGreg.com Westpark
3801 S State Rd 7
West Park, FL 33023

HGreg.com Miami
8101 NW 7th Ave
Miami, FL 33150

HGreg.com Orlando
2510 Jetport Dr


Orlando, FL 32809

HGreg.com Nissan Delray


2200 S Federal Hwy




Delray Beach, FL 33483



HGreg.com Nissan Kendall
17305 S Dixie Hwy


Palmetto Bay, FL 33157

HGreg.com Lux
2500 W Sample Rd
Pompano Beach, FL 33073

HGreg.com West Palm Beach
551 S Military Trail


West Palm Beach, FL 33415
To learn more about the campaign, visit toysfortots.org or view the campaign's social media post on HGreg.com's Facebook.
About HGreg.com
HGreg.com is part of HGregoire, a network of 17 pre-owned and 12 new car dealerships throughout Canada and the U.S. With more than 25 years of continuous service to consumers and more than 1,500 associates, the company is determined to offer a new world of customer convenience and care, both in-store and online. Learn more by visiting HGreg.com or follow them on Instagram, Twitter and Facebook at @HGregAuto. Visit the HGreg.com online newsroom, hgreg.com/newsroom, for pictures and other media resources.
About Toys for Tots
Toys for Tots, a 71-year national charitable program run by the U.S. Marine Corps Reserve, provides happiness and hope to disadvantaged children during each Christmas holiday season. The toys, books and other gifts collected and distributed by the Marines offer these children recognition, confidence and a positive memory for a lifetime. It is such experiences that help children become responsible citizens and caring members of their community. Last year the Marine Toys for Tots program fulfilled the holiday hopes and dreams of 7 million less fortunate children in 800 communities nationwide. Since 1947, over 251 million children have been assisted. The Marine Toys for Tots Foundation is a not for profit organization authorized by the U.S. Marine Corps and the Department of Defense to provide fundraising and other necessary support for the annual Marine Corps Reserve Toys for Tots Program. For more information, visit toysfortots.org.
For more information: 
Samiha Fariha / samiha@torchiacom.com / Cell: 647-268-6687